What do employers need to think about before a domestic helper interview?
The domestic helper interview process can sometimes feel challenging and stressful, especially when an employer is hiring a helper for the first time. During this process, employers are oftentimes expected to make an important family decision based on a single interview with the candidate, which can feel quite overwhelming.
In this article we list out some practical tips for employers to better navigate the interview process and make the most out of their domestic helper interviews.
---
Create a job description
Once priorities and management style preferences have been determined, we recommend employers to create a job description including priorities and tasks, as well as the helper's ideal personality profile. This will help guide the recruitment process and support the employer in setting clear expectations with the candidates about the job they are interviewing for.
---
Know your offer
Because of the way the domestic helper recruitment market works in Hong Kong, employers are oftentimes expected to give a job offer on the spot during an employment interview. In order to be able to do this, it is important for employers to define what their job offer will look like before beginning the interview process. This includes deciding in advance on the proposed salary, food arrangement, schedule, rest day, and accommodation.
---
Set clear interview objectives
Employers are recommended to see the interview as an opportunity to understand the candidate's personality, attitude, and working style. It is important to use the interview to get a sense of whether the employer and other family members will be able to communicate and work together well with the helper. For this reason, employers are encouraged to set a few clear objectives for themselves ahead of the planned interviews.
---
Prepare interview questions 
Employers are encouraged to prepare their interview questions in advance. We recommend employers to plan for at least 30 minutes of interview duration in order to have enough time to get to know the candidate and figure out whether the candidate is a good fit (and the other way around!). This article provides tips for employers on how to structure an interview as well as which questions to ask a domestic helper during an interview.
---
Try to meet in-person
While a video call may be convenient, meeting in-person allows for better communication. When possible, we recommend employers to conduct the interview in their home. While this may feel a bit uncomfortable, it is a great way for the candidate to meet the different family members and get a sense of the general work environment and culture. If video call is the only possibility, we recommend employers to make sure to hone in on the personality fit questions of the interview and show the candidate around their expected accommodation through video.
---
Take notes
It is important for employers to take notes during the interview process in order to make the decision-making process easier and better informed. To do so, employers are encouraged to prepare a simple interview notes template. This will provide a suitable and unified structure for all of the planned interviews. Employers can find a sample template for interview notes below.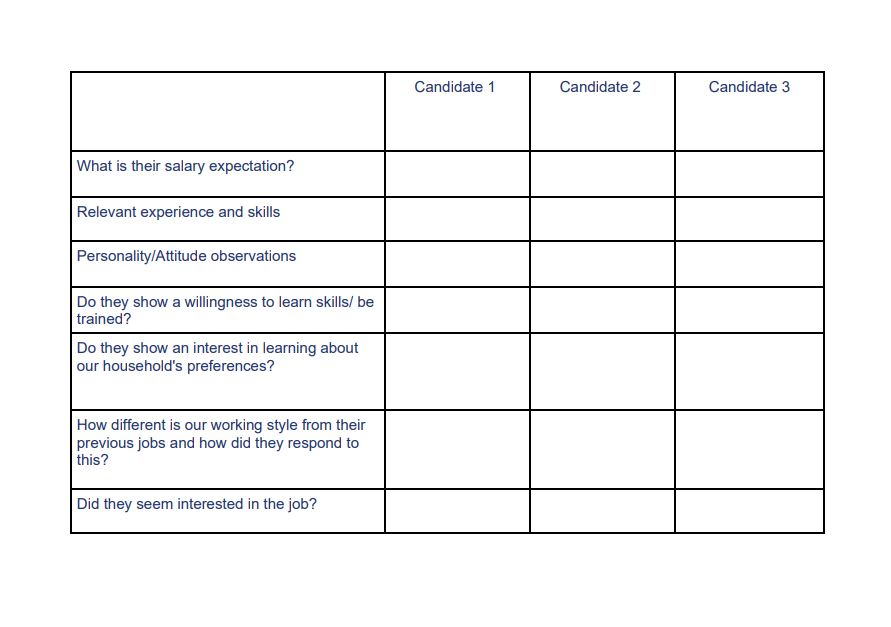 ---
Are you a domestic helper looking for interview tips? Read this article!


Last updated on August 7th, 2023