Guide on Ethical Recruitment: What are recruitment fees and related costs?
At Fair Agency, we are on our way to be an IRIS certified labour recruiter. What this means is that we follow the principles of the IRIS Standard which ensures recruitment agencies comply with ethical recruitment standards and practices. We take pride in offering ethical recruitment services that are fair to both employers and workers alike.
What is Ethical Recruitment? 
Ethical recruitment means hiring workers lawfully and in a fair and transparent manner that respects and protects their dignity and human rights.
What is the IRIS Standard?
IRIS: Ethical Recruitment is the United Nation's International Organisation for Migration initiative to promote ethical recruitment of migrant workers. The goal of IRIS is to make international recruitment fair for everyone involved: migrant workers, employers, recruiters and countries of origin and destination. The IRIS Standard explains what ethical recruitment means in practice, and what labour recruiters need to demonstrate to become IRIS certified. The IRIS Standard consists of 7 principles and these principles are used to verify labour recruiters' compliance with the ethical recruitment principles.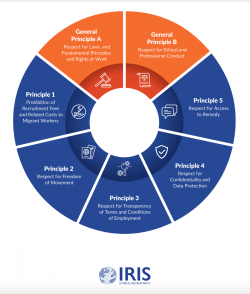 Read more on the IRIS Standard here.
What are Recruitment fees and related costs?
Recruitment fees and related costs are defined by International Labour Organization as: "any fees or costs incurred in the recruitment process in order for workers to secure employment or placement, regardless of the manner, timing or location of their imposition or collection". 
Recruitment fees include: 
Payments for recruitment services offered by labour recruiters in matching offers of and applications for employment; 

Payments made in the case of recruitment of workers with a view to employing them to perform work for a third party; 

Payments made in the case of direct recruitment by the employer; or 

Payments required to recover recruitment fees from workers
Other related costs include:
Travel-related costs, such as passport, visa, return flights, lodging, including for training, interviews, consular appointments, relocation, and return or repatriation, etc

Medical-related costs, such as pre-departure medical examinations, tests, or vaccinations

Insurance costs

Training costs, such as mandatory government-required training 

Any administrative or overhead fees associated with job placement, such as fees to prepare, obtain or legalize workers' employment contracts, identity documents, passports, visas, background checks, security and exit clearances
Read more on Recruitment Fees and Related Costs here.
According to the IRIS Standard, recruiters must not charge directly or indirectly, in whole or in part, any fees or related costs to migrant workers, for the services related to recruitment for temporary or permanent job placement or employment. 
Recruiters must not require workers or their family members to provide a monetary deposit or other collateral as a condition of employment, and must not withhold, destroy or confiscate documents, wages, or other personal belongings, or otherwise limit freedom of movement. 
We at Fair Agency do not charge any fees to workers and we ensure workers are treated fairly in the whole recruitment process. 
We provide fair and transparent pricing for employers, with no hidden costs or nasty surprises. We only place helpers who are a good match for their family, in the long run. We guide and support employers through the whole hiring process.  
Click here if you want to learn more about our ethical recruitment services.


Last updated on September 11th, 2023