What holidays are domestic helpers entitled to? 2022 Statutory holidays, public holidays, rest days and annual leave
Domestic helper holidays can be broken down into different categories, and domestic helpers are legally entitled to each type.
Read also: Can employers ask domestic helpers to stay in on their day off?
Download Fair Agency's Free 2022 Calendar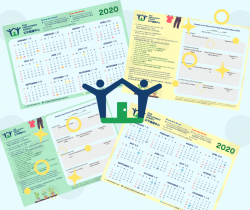 We designed a calendar to help domestic helpers and employers keep track of statutory holidays, rest days, sick leaves, and annual leaves. Download the FREE 2022 calendar PDF by signing up for our email newsletter, Fair Bulletin:
Statutory holidays
Employers are required by law to give all statutory holidays off. If a statutory holiday falls on a domestic helper's rest day, she must be given that day off and the following day.
Click here to find out how to add Hong Kong holidays to your online calendar or download our calendar template: HERE
There are 13 statutory holidays in 2022.
Statutory holidays are as follows for 2022:
The first day of January: 1 January
Lunar New Year's Day: 1 February
The second day of Lunar New Year: 2 February
The third day of Lunar New Year: 3 February
Ching Ming Festival: 5 April
Labour Day: 1 May
The Birthday of the Buddha: 8 May
Tuen Ng Festival: 3 June
Hong Kong Special Administrative Region Establishment Day: 1 July
The second day following the Chinese Mid-Autumn Festival: 12 September
National Day: 1 October
Chung Yeung Festival: 4 October
Chinese Winter Solstice Festival or Christmas Day (at the option of the employer): 22 December or 25 December
Public holidays
In addition to the statutory holidays, Hong Kong has five public holidays which are: Good Friday, Easter Saturday, Easter Monday and Boxing Day. Some employers choose to give these days off too but it is not a legal requirement.
Are domestic helpers entitled to statutory holidays if they have been working for less than 3 months?
Yes, domestic helpers are entitled to statutory holidays regardless of their work duration. Employers must give domestic helpers the day off even if they have been working for less than 3 months. However, legally employers are not required to pay salary for the holiday until after the first 3 months of service.
Can I ask a domestic helper to work on statutory holidays?
Yes, you can, but if a domestic helper works on a statutory holiday you must give an alternative day off within 60 days. You must also give a minimum of 48 hours notice to your domestic helper.
However, we recommend giving as much notice as possible. Because it's a holiday, many domestic helpers will have special activities and outings planned.
Can I pay a domestic helper extra instead of giving them the holiday off work?
No, domestic helpers must be allowed to take the holiday or you must give another day off instead as outlined above.
What if the statutory holidays fall on Sundays?
When a statutory holiday falls on a rest day (usually a Sunday), the next (non-holiday) day is designated as the statutory holiday instead. Domestic helpers are also still entitled to the rest day as usual.
What happens if statutory holidays and/or rest days fall during a period of annual leave?
If a statutory holiday or rest day falls in a domestic helper's annual leave, then she must be granted another day off for that day.
Annual leave
In the first year of working for you, you are legally required to give a domestic helper seven days of paid leave. However, the longer they work for you the more paid days off you are required to give.
Below outlines how many days off you are required to give according to how many years they have worked for you:
Year 1 = 7 days
Year 2 = 7 days
Year 3 = 8 days
Year 4 = 9 days
Year 5 = 10 days
Year 6 = 11 days
Year 7 = 12 days
Year 8 = 13 days
Year 9 = 14 days
* Note that the maximum amount of paid annual leave days is reached at 9 years. After that, it does not increase.
Remember to mark the domestic helper holidays on your calendar, whether you are an employer or a worker.
This information is taken from the Hong Kong Labour Department's Practical Guide For Employment of Foreign Domestic Helpers.
Helpful FAQs:
You might also like:


Last updated on November 30th, 2021