How can I renew a Philippine passport in Hong Kong?
Philippine passports are renewed at the Philippine Consulate in Hong Kong. It is best to do the passport renewal one year before the passport expiry date. Now, appointments for passport renewals can be booked online, as well as in-person. Making an online appointment booking is recommended in order to save time at the Consulate. The passport renewal takes about six weeks. 
A reminder: Do not purchase a flight ticket until after your the passport has been released. If there are delays to the passport renewal process, you may not be able to take your flight. 
After collecting the new passport, domestic helpers should also apply for the remaining full visa at HK Immigration. 
Step 1: Book an appointment
You can do this online via hk.passport.gov.ph
You will get a confirmation email with a link which must be clicked within 24 hours to authenticate.

The appointment page, will display a list of available dates and time. Click your preferred schedule, 

The system will provide you with two documents: 'System Confirmation Notification' and 'DFA Passport Application.' Print both documents and fill up the application form. 
Step 2: Come to your appointment with these documents
You will need to bring:
Current passport
Application form
Photocopy of passport and visa or HKID
A4 Mailing envelope with HK$32 Stamps
Step 3: Wait for your passport to be mailed
For any inquiries, you can reach the Philippine Consulate General at:
2823-8508 during office hours
5241-5465 (whatsapp/viber message only)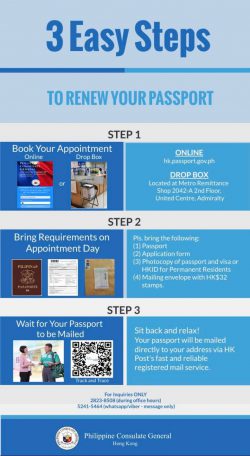 For more information on the Philippine Passport refer to:
You may also like:
---
or are you a domestic helper looking for a new employer? Apply with us
---
If you found this article helpful, please consider donating today.
Fair Employment Agency is a nonprofit agency. We put a lot of work into producing high quality, accurate and updated information resources because when employers and domestic helpers are informed, they are empowered to make good choices.
If you found this article helpful, please consider donating to support us through Fair Employment Foundation, a registered section 88 charity in Hong Kong, which builds social businesses (like us!) to make migrant recruitment fair to workers & fair to employers.
Click HERE for all donation methods.


Last updated on August 31st, 2021